Irony at the Command and General Staff School ('47 Magazine, 1947)
This is a humorous story about the heroics of one Captain Charles W. Davis (1917 – 1991), former resident of Guadalcanal, and his experiences with the U.S. Army Command and General Staff School at Fort Leavenworth, Kansas.
Briefly put: Army Captain Davis volunteered to deliver a highly prized message to an isolated and thoroughly inconvenienced collection of G.I.s on Guadalcanal. Having arrived at their encampment, such as it was, (with some difficulty), the captain volunteered yet again, and began planning the deliverance of these much beleaguered soldiers by organizing a number of these men into a raiding party that will have at the assorted Japanese machine gun nests in the neighborhood. Young Davis exercised tremendous initiative upon encountering a pride of Japanese infantrymen who were not at all impressed with the captain's gumption. Getting his Irish up, Davis rallied his men to get their Irish up, too, and the remaining Japanese fellows were swiftly convinced that they ought to find something better to do with their time. These American soldiers soon found that they were no longer isolated, beleaguered or inconvenienced, thanks to Davis, and were then able to join their comrades in larger efforts and soon went on to win the day.
The Brass Hats in Washington took a liking to Captain Charles W. Davis; promoted him to major and awarded him the Congressional Medal of honor.
Here's the funny part: at some point thereafter, Davis is told to attend the classes at the Command and General Staff School where he was to learn the right way and wrong way to do things in battle - you'll have to read the rest yourself because it is all so terribly silly...
Audie Murphy: the Most Decorated (Coronet Magazine, 1955)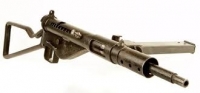 A W.W. II Hero Speaks Out About Heroes and Heroism (Collier's, 1945)
Plain-speaking Carlton Rouh (1919 – 1977) was photographed in his civvies for this interview and he does not bare in any way the appearance that one might have as to how a recipient of a Congressional Medal of Honor should look - yet as you read the interview his character and honesty seem so clear that you would not want him to dress in any other way. Carlton Rouh was awarded the M.o.H. for performing numerous acts of courage on the South Pacific island of Peleliu during the September of 1944; in this article he speaks bluntly about the nature of heroes and the discomfort they experience when being praised in a nation that was so deeply in need for such men.
Click here to read about another W.W. II Medal of Honor recipient.
Medal of Honor Recipient Robert D. Maxwell (Collier's, 1945)
This 1945 article by George Creel reported on the brave and selfless acts of Robert D. Maxwell (b. 1920):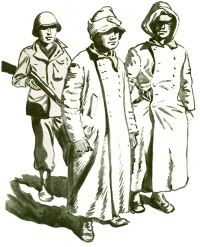 "COURAGE, like everything else, has its kinds of degrees. No one would detract a hair's weight from the bravery of the firing line, but in battle there is the heartening touch of a comrade's shoulder, the excitement of the charge, and the 50-50 chance of coming out alive. All these aids are lacking in those epic instances where men make death a deliberate choice...one example that stands out for sheer drama and sustained fortitude is that of Technician Fifth Grade Robert D. Maxwell, who covered a German hand grenade with his body, smothering the explosion that would have killed every member of his group."
Maxwell survived his wounds; seven months later he was awarded the Medal of Honor for his courage. He currently reside in Oregon.
S/Sgt. Henry E. Erwin Off the Coast of Japan (Collier's Magazine, 1945)
War correspondents see and hear about many courageous acts that serve as a testimony to the level of personal commitment held high by many (but not all) of the American soldiers, sailors, airmen and Marines who served in the Second World War, and when I read the opening paragraphs about this hero, I knew it was going to be unique:
"His name is Staff Sergeant Henry E. Erwin of Bessemer, Alabama. He was the radio operator on a B-29, and what he did, we think, was the bravest thing we ever heard of."
Pvt. Lloyd McCarter on Corregidor (GI Joe Magazine, 1946)
We're sure that Pvt. Lloyd McCarter of Takoma, Washington would have undoubtedly preferred to have been anywhere else but the island of Corregidor during the February of 1945, but there were no other legal options open to him at the time. This proved to be bad luck for some thirty Japanese soldiers who happened to have been in that same zip code.