An AMERICAN LEGION WEEKLY article by the noted war correspondent Frederick Palmer (1873 - 1958) who reported on the French and British armies as they attempted to hold-off the Nazi onslaught of 1940. In this article, Palmer referred often to walking this same ground with the American Army during the 1914 - 1918 war just twenty-one years earlier; he found the French to be confident of a decisive victory: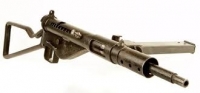 "They felt quite secure, as did all the people I met, - secure behind the wonderful Maginot Line. The door was fast locked against the ancient enemy...All the set guns in their fixed positions, all the fields of barbed wire and tank obstacles faced the Rhine to meet a frontal attack. Occasionally a skeptic whispered the question, 'What if an invading army should get behind the Maginot Line?'"
"And this was to happen."
On assignment for the Hearst papers, H.R. Knickerbocker (1898 – 1949) witnessed the total collapse of the French Army.
He made his observations and conclusions available to American readers in his 1941 book Is Tomorrow Hitler's
, which hit the bookshops shortly after Pearl Harbor.
Thankfully, his writing was very conversational and his explanation as to why events unfolded the way they did are easy for all to understand:
"[The French Army] did not possess anything like the number of tanks and airplanes used by the Germans; but I would rank this deficiency at the bottom of any list of causes of the French defeat. If they had ignored their low birth rate, been willing to spend lives, had retained the old offensive spirit traditional in the French Army, had known that they had to win or perish, had a Churchill to inspire and lead them, and had no traitors in their ranks, their comparative lack of weapons would not have mattered; they would still be fighting the Germans in France. The inferiority of their equipment consisted in the lack of a sufficient number of planes and tanks, but if they had had the spirit to win they could have held the Germans until the deficiency could be made up."
Click here to read the observations of U.S. Army Lieutenant Louis L'Amour concerning 1946 Paris.