W.W. I Trench Fighting (The New Republic, 1915)
The seasoned war correspondent from THE NEW REPUBLIC filed this essay some five months into the war in order to clarify for his American readers the exact nature of trench warfare. His observations are based upon the trench fighting that he witnessed both in France and during the Russo-Japanese War, some nine years earlier:
"There is an illusion that the range and effectiveness of modern arms tend to keep armies far apart. On the contrary, there is more hand-to-hand fighting today than at any time since gunpowder was invented... at this rate the French will not drive out the Germans in months, but on the other hand a frontal attack, and every attack must now be frontal, even if successful would cost several hundred thousand men."
The article was written by Gerald Morgan; by war's end he would serve as General Pershing's press chief (ie.censor).
TRENCH RAID! (The American Legion Weekly, 1922)
This is an eyewitness account of the very first trench raid to have been suffered by the U.S. Army in France; like most first time engagements in American military history, it didn't go well and resulted in three dead, five wounded, and eleven Americans taken as prisoner.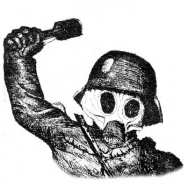 Historians have recorded this event to have taken place on the morning of November 3, 1917, but this participant stated that it all began at 3:00 a.m. on November 2, after a forty-five minute artillery barrage was followed by the hasty arrival of 240 German soldiers, two wearing American uniforms, jumped into their trench and began making quick work out of the Americans within.
"The Germans retired after a period of probably fifteen minutes carrying all their dead and wounded, and eleven of our men as prisoners... They cleaned the trench of every piece of our equipment they could lay their hands on, and left none of theirs behind as evidence of the unit to which they belonged."
"Nine days later, utterly fatigued, grimy, unshaven and covered with mud, we were relieved by the French who once more took their places in the 'quiet sector'"
The U.S. Army would not launch their own trench raid for another four months.
Trench Warfare Tips from a Veteran (New York Times, 1916)
An experienced Canadian trench fighter wrote the attached columns offering sound advice to the American National Guardsmen he knew were bound to enter the war at some point.
"Men enthuse over descriptions of bayonet charges. They are no idle pastimes, so it behooves all soldiers not only to become absolutely perfect in bayonet exercises, but to practice getting under way, keeping abreast with your mates and having a firm hold on your rifle. The soldier may say, 'Oh, that bayonet exercise isn't practical in a charge." No? Very well, that may appear right to some, but I should advise every one knowing every parry, thrust and counter so thoroughly that after they become second nature you can then do whatever your intuition at the moment directs."