Uniform and Equipment Cost Illustrated (Scientific American, 1917)
Oddly, the other U.S. magazine that concerned itself with matters mechanical, "Scientific American", also explored the question of World War One uniform and equipment costs during the same same month -however they took the question a bit more seriously and hired an artist to address the concern. The cost illustration dealing with uniforms and equipment was printed on their December, 1917 cover which we offer herein.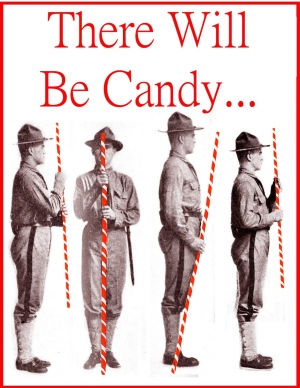 FYI: Doughboy service jacket cost the U.S. taxpayer $15.20-while the Doughboy overcoat cost $14.92...
The Evolution of the American Web Belt (Outing Magazine, 1918)
The attached article, "How Our Soldiers Carry Their Ammunition", was originally published in a 1918 sporting magazine and gives an account as to how one uniform element unique to the U.S. and British military establishments came into prominence during the earliest years of the Twentieth Century. Written by Paul A Curtis, Jr., the essay describes the difficulties inherit with leather belting, the British need for an alternate material in order to maintain colonial regiments in India and the father of the American web belt, General Anson Mills (1834 - 1924).
There is much information dealing with the abilities of the 1903 Springfield rifle as well as the amount of cartridges issued to British and German soldiers during the First World War:
"The American infantryman's belt has ten pockets holding two clips of 5 cartridges each, or 100 rounds of ammunition and in addition, when going into action, he carries two bandoleers containing 60 cartridges each..."
When the Doughboys complained, they complained heavily about their uniforms; read about it here.
The Recycling of Doughboy Uniforms (Stars and Stripes, 1918)
In 1918 the U.S. Army Service of Supply instituted a salvaging unit near the French city of Tours which employed hundreds of French women and a number of idle "Sammies" in order to eradicate Army waste. It was there that the millions of discarded uniform elements were re-fashioned into other useful items:
"At Tours they evolved a hospital slipper with a sole made from a torn and discarded campaign hat and an upper of O.D cloth cut from anywhere. It was such a good slipper, and easy to make that St. Pierre-des-Corps soon reached quantity production on it."